Derbyshire Mind
Derbyshire Mind is one of a federated network of local Mind charities across the UK.  Our focus is on improving mental health and wellbeing for people across Derbyshire and Derby City.  We are committed to developing innovative and responsive services which promote mental health awareness and wellbeing.
Through more than 50 years of experience and local work supporting people experiencing mental health problems, Derbyshire Mind has developed and provided a range of different services including our Advocacy Services and the Enjoying Derbyshire Community Wellbeing Programme.
Derbyshire Mind works in partnership at a local level with statutory, independent and voluntary sector agencies in the health and social care sector.
Did you know that Amazon will donate to Derbyshire Mind when you shop! Set your Amazon Smile account up here.
What we do
Derbyshire Mind, established as a local mental health group in 1967, is an independent local association affiliated to the national charity Mind. As part of our affiliation agreement we maintain a quality management system in order to ensure rigorous standards across the network of Local Mind Associations
Derbyshire Mind is committed to:
Working for improvements in local mental health services

Making it possible for people with mental health difficulties to voice their opinions

Offering quality services

Challenging the stigma attached to people labelled "mentally ill" and increasing public understanding of mental health issues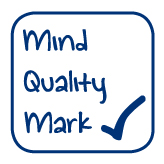 Derbyshire Mind has been awarded the highest level of the Mind Quality Management assessment
Please feel free to browse the pages within this website or contact us to find out more about what Derbyshire Mind can offer you ...