MindSpace
Struggling with how you're feeling? Need someone to just listen and not try to 'fix'? MindSpace is here to listen to you - come and walk with us.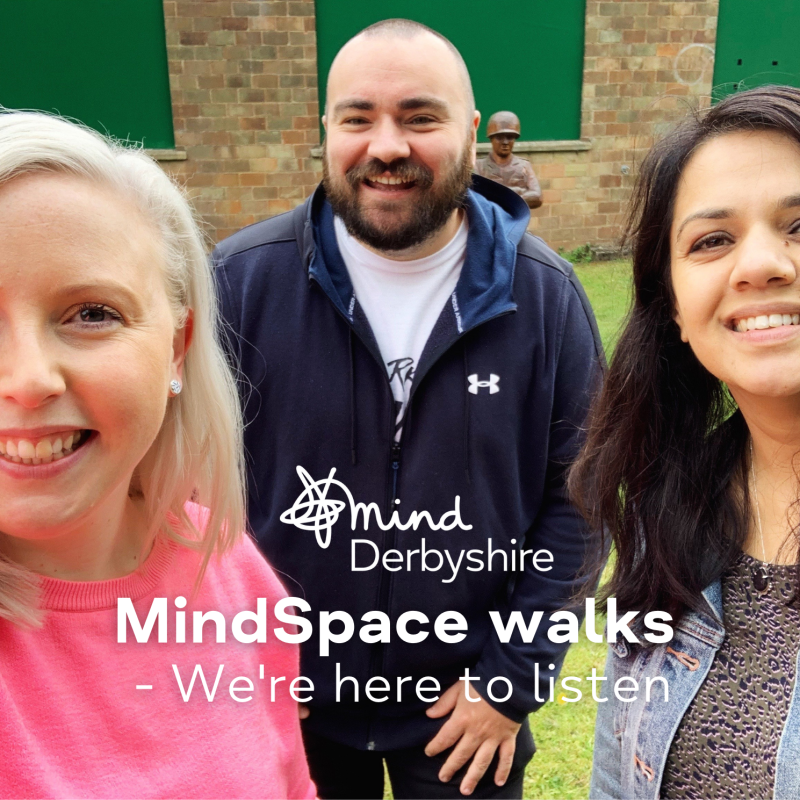 Sometimes we all need someone to talk to – someone that's not our therapist or our doctor or our family member – but someone who is impartial and isn't going to try and give advice. We are here for you.
Derbyshire Mind's MindSpace meet-up is a supportive community group that creates space for us to get together, get some fresh air, meet some new people, and talk and be listened in a friendly and inclusive group.
Come join us for a chat and a gentle walk around Markeaton Park on alternate Friday mornings. The walk might help you think things through, and we are really good at listening.
What is MindSpace
?
MindSpace community meetups are informal community walks in local parks. They are perfectly unstructured so that they can flex to suit whatever the group needs or wants on the walk that week. Sometimes we will just walk and talk, sometimes we might stop for a coffee in the local café, sometimes the conversation will be centered around a particular topic that someone has raised.
All MindSpace walks are supported by our fantastic Derbyshire Mind volunteers who are friendly, inclusive, welcoming and really great listeners. We listen without judgement and without trying to 'fix' or give advice. You can rely on us to be here every other Friday, same time same place, no matter the weather, and ready to listen to whatever you are feeling or having trouble with.
When and Where
?
The groups meet every fortnight at the same location and time – the list of our current MindSpace locations are listed below:
Fridays (Every Other Week) – Markeaton Park
Meet at 10.30am, at the Model Railway Building by the Main Car Park (DE22 3BG)
Fridays (Every Other Week) – Sinfin Moor Park, Sinfin Lane
Meet at 10.30am, at the Main Car Park (Entrance to park and car park is down the little lane that comes directly off of the sharp bend where Sinfin Lane turns into Redwood Road. Just before you get to Woodbine Garage.) Picture of Map
We meet whatever the weather, you can rely on us to be there for you. If it is raining, we just pop on a rain coat. If it is sunny, we just pop on some suncream!
If the weather is extreme however, such as thick ice or snow for instance, then we will move the group to our 'Plan B café' location for safety reasons. We will inform you by posting this on our social media pages and by contacting everyone that is registered to that walk location.
How to Book a Place on an Upcoming MindSpace MeetUp:
We would love to meet you at your local MindSpace group!
If you are thinking of joining us on a MindSpace meet up in your local park we ask that you register your attendance. You only need to do this once.  This is so that we have your contact details needed to add you to our MindSpace database and we can contact you if the walk has to be moved to a cafe due to weather.
After that first registration you are very welcome to just turn up at the park each fortnight or whenever suits you.
You can Register Your Attendance here.
You can find all of our upcoming walks and groups on our Activities Calendar page.
Could you be a Volunteer MindSpace group leader?
Do you have a local park near you that would be fab as a MindSpace meet up location? Could you lead one of our friendly and informal MindSpace groups? Would you love to be part of our Derbyshire Mind Volunteers Network?
We are always looking to expand our MindSpace community network and we are always looking out for reliable and friendly local people who are passionate about supporting their community.
As a valued Derbyshire Mind volunteer, we would provide you with all the necessary training and support to help make a real difference to people in your local community experiencing mental health challenges.
Volunteer MindSpace Expressions of Interest:
If this sounds like something you are interested in please take a look at the role description and complete the Expressions of Interest form detailing what park you would be interested in supporting a group at, and what days and times you could do. We will then hold your details on file and be in touch in due course to discuss your kind offer!
I'm Interested in becoming a MindSpace Walk Leader