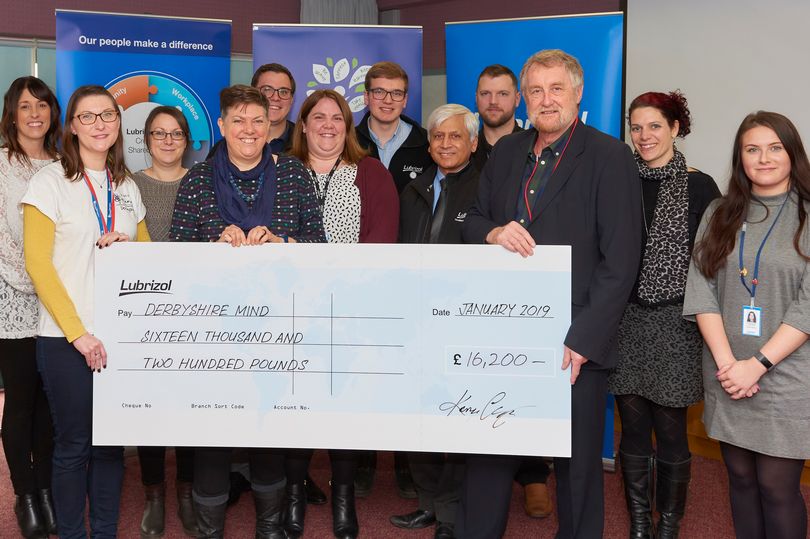 Thank you to everyone at Lubrizol for their tremendous efforts raising money for Derbyshire Mind and the Enjoying Derbyshire Project, which offers a menu of free wellbeing activities across Derbyshire and the City to boost mood and improve mental wellbeing.
To read the full article please click here.
We're looking for volunteers to join us at our local football club Derby County to collect money from fans and help raise awareness of mental health before the match starts. So take a look at the list of confirmed match days here and get yourself and your friends signed up!
If you have any questions our FAQs can be found here.
Derbyshire County Council run the Derbyshire Dignity Campaign jointly with NHS Derbyshire. The aim is for every social care and health service team, establishment and provider to be giving a consistent experience of dignity and respect for all who receive a service.
Dignity is the foundation for all health, social care and other public services and is the responsibility of everyone involved at all levels.
Successful applications result in the organisation achieving the award for 2 years after which they have to apply again.
We have held the award since September 2016 and are delighted to have once again been successful in our application and hold this now until January 2021.
"The whole ethos of our advocacy services is to put the person at the centre of decision making, respecting their dignity and their choices and is at the heart of the culture in our team."
Sarah Harrison
Service Director
Ryan Cooper is cycling 1066 miles from Land's End to John O'Groats to raise money for mental health charity Derbyshire Mind.
Ryan, 38, of Duffield, has planned his own route, which he will complete in 11 stages averaging 97 miles a day. He said: "I will be cycling for up to 10 hours a day, passing through some of the most scenic countryside Britain has to offer, including iconic bridge crossings, mountain passes and historic locations along the way."
Ryan will be supported throughout the ride by mum Monica and brother Gavin, who will be completing the journey alongside him in the 'TEAM ry support car', which has been designed and produced free of charge by OMG Signs of Little Eaton.
The ride starts on Monday July 30th at 9am. To make a donation please visit: www.mydonate.bt.com/fundraisers/teamrychallenge
We are accepting donations until 10th November 2018.
Visit twitter.com/teamrychallenge for regular updates.
Imagine jogging through the trees, with the wind in your hair, a smile on your face and surrounded by nature. You're jogging simply for the fun of jogging, with no competition against anyone else. Sounds like the perfect recipe for feeling great, doesn't it?
That's why the partnership between Jog Derbyshire, Derbyshire MIND and the National Trust in creating the Kedleston Hall Trails has proven so successful.
Last month saw the handover of a £1,000 cheque to Derbyshire MIND – the culmination of a year of working together on the monthly event. For not only are the people attending getting so much out of it, but their entry fee for the jog of just £2 is a worthy contribution to the work of the local charity.
Thanks to Toyota, Derbyshire Mind was pleased to receive a donation as part of their charitable work this year. The money will go towards the support of our services and the Enjoying Derbyshire Wellbeing Project. We were one of many beneficiaries, marked at a celebration event in the Spring 2018. You can see the full press release on this here.
We are pleased to announce that we have a new logo for Enjoying Derbyshire and our sincere thanks to Lubrizol for developing this for us. The logo is intended to represent our intention to develop a wellbeing programme of activities which will take place across the County of Derbyshire and in Derby to complement our walking programme. We look forward to sharing news of this programme and up and coming events as soon as we can so please do watch this space!