Ice Bath Challenge raises £2,717!
1 March 2022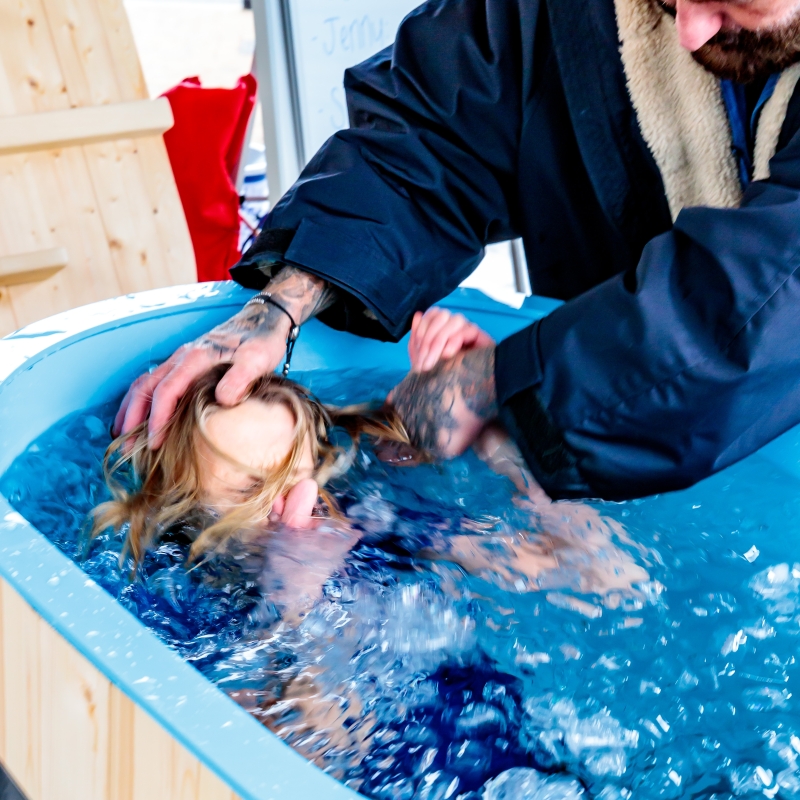 On Saturday 12th February at Mercia Marina, Willington, three of Derbyshire Mind's trustees and our Chief Executive took on an exhilarating challenge to raise much needed funds for mental health in Derbyshire.  Sarah Markham, Lisa Kelly, Sally Spencer and Jenny Hotchkiss raised an amazing £2,717 in a mind over matter challenge that tested them all to the limit!
On a bitterly cold day, our intrepid challengers immersed themselves in a freezing cold bath of water and ice, in a challenge popularised by Wim Hof, the Dutch extreme athlete nicknamed 'The Iceman'.  Knowing that every second they stayed in was earning more donations from the crowd, they remained in the ice for up to seven shivering minutes.  And it was all worth it!
Derbyshire Mind would like to thank our amazing event partners for all their help and support in making the challenge happen:
Mercia Marina proved the perfect venue with bracing open water views and the bandstand location for the bath.
The Ice Bath Company kindly donated and managed the ice bath.
Kevin O'Neil of Breatheolution who specialises in therapy from cold exposure, provided much needed coaching.
Milan Hansjee of MH Fitness Derby helped with warm up exercises once the challengers had left the ice bath.
…and of course our fantastic team of volunteers who braved the weather to support Derbyshire Mind once again!
Jenny Hotchkiss, Derbyshire Mind's Chief Executive, commented "The challenge was very much mind over matter.  It was exhilarating! Challenging but nothing compared to those we know who have experienced really difficult times with their mental health and wellbeing. We actually got a lot out of the experience and the team are already thinking of the next challenge they will undertake"
All funds raised through the challenge will go towards providing community services and projects which support the mental health and wellbeing of people in Derby and Derbyshire.  Find out more about the services and projects we already deliver:
www.derbyshiremind.org.uk/services/community-mental-wellbeing-services/
Thank you so much to everyone who donated and supported us on the day!