Mental Health Crisis Support Drop-In Services
Friendly and supportive non-clinical drop-in services for adults experiencing mental health crisis or emotional distress in Buxton, Swadlincote and Ripley.
Our Crisis Support Drop-In services in Buxton, Ripley and Swadlincote offer an out-of-hours friendly and welcoming community crisis support space open to anyone over 18 experiencing a mental health crisis or emotional distress.
Our aim is to offer you support and help at your time of need in a relaxed and comfortable non-clinical environment.
What are Crisis Support Drop-Ins?
Our Crisis Support Drop-In services provide a welcoming non-clinical alternative to A&E for any person who self-defines as needing immediate help with their mental health or emotional wellbeing.
The aim of the service is to provide a safe, supportive environment for adults experiencing psychological distress requiring support to prevent deterioration. Our trained Support Workers and Peer Support Volunteers provide de-escalation support, wellbeing, social and emotional support, safety planning, and signposting to community-based support services or other support as required.
Being based in the heart of the community the purpose of the Crisis Support Drop-ins is to help you access the right support at the right time in the right place for you.
High Peak Crisis Support Service: Now Open at Zink HQ, Buxton
Ripley and Swadlincote Crisis Support Services: Coming December 2023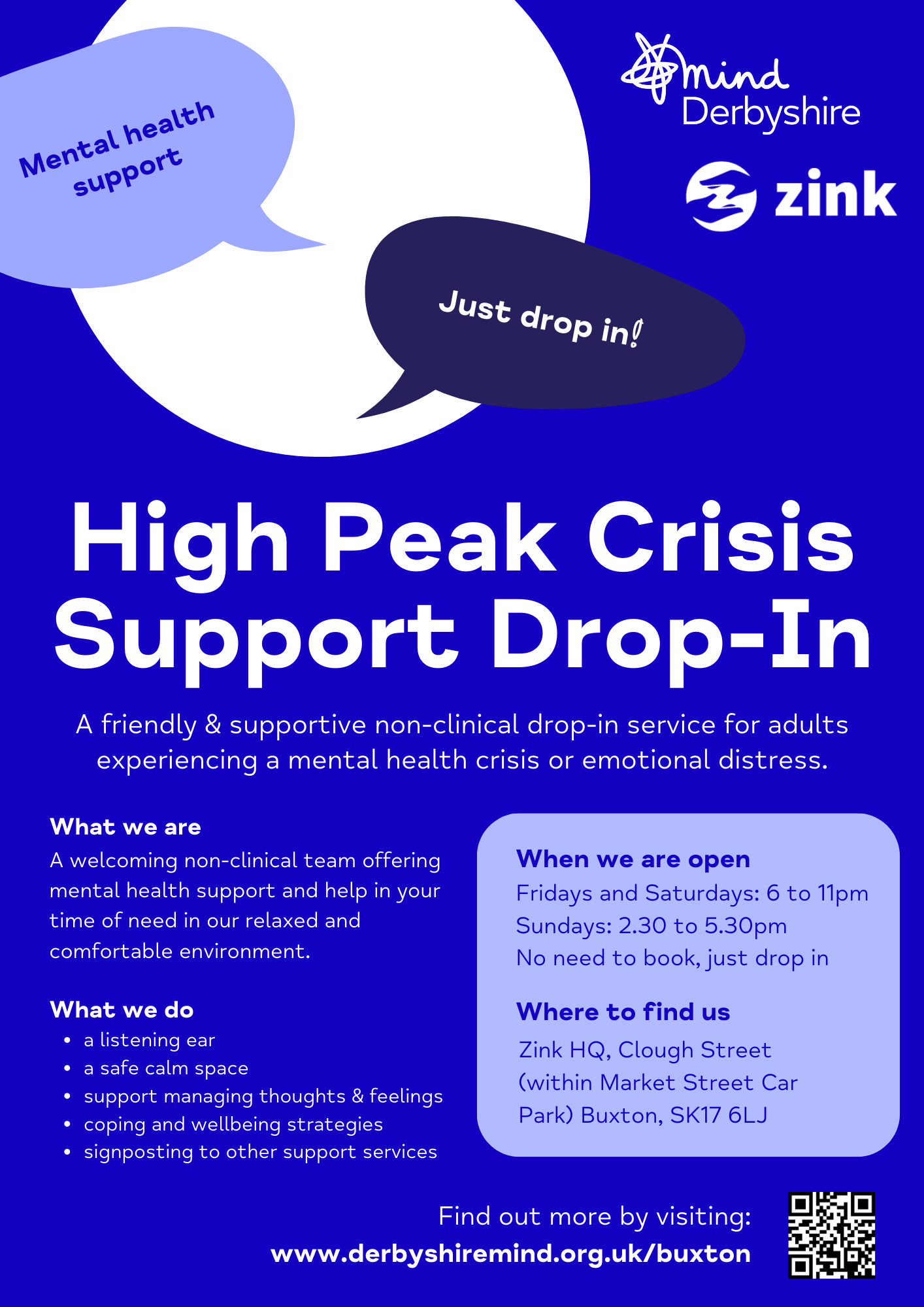 When might you need to visit your local Crisis Support Drop-in service?
The services are designed to offer support and a safe space to anyone over 18 experiencing (or nearing) a mental health crisis:
For example, you might:
be feeling emotionally distressed
be experiencing or nearing crisis point with your mental health
feeling low and potentially experiencing suicidal thoughts
be feeling anxious, worried or panicky
have experienced a life event that has impacted your usual ability to cope
be having a 'dip' in your mental health, that you are usually able to manage
want a calm space to go to to keep yourself safe and distract from thoughts of self harm
We also recognise that you might also want to come and visit the service and staff so that you know who and where we are in case you experience a crisis in the near future.
Need Help Now? Visit: derbyshiremind.org.uk/get-help-now
Where to Find Us:
Opening Hours:
Fridays and Saturdays: 6pm to 11pm
Sundays: 2.30pm to 5.30pm

– No need to contact us, just drop in!

High Peak Crisis Support Service
Location
Zink HQ, Clough Street (within Market Street Car Park),
Buxton, SK17 6LJ (Click Here for Google Map)
Ripley Crisis Support Service
Launching December 2023
Swadlincote Crisis Support Service
Launching December 2023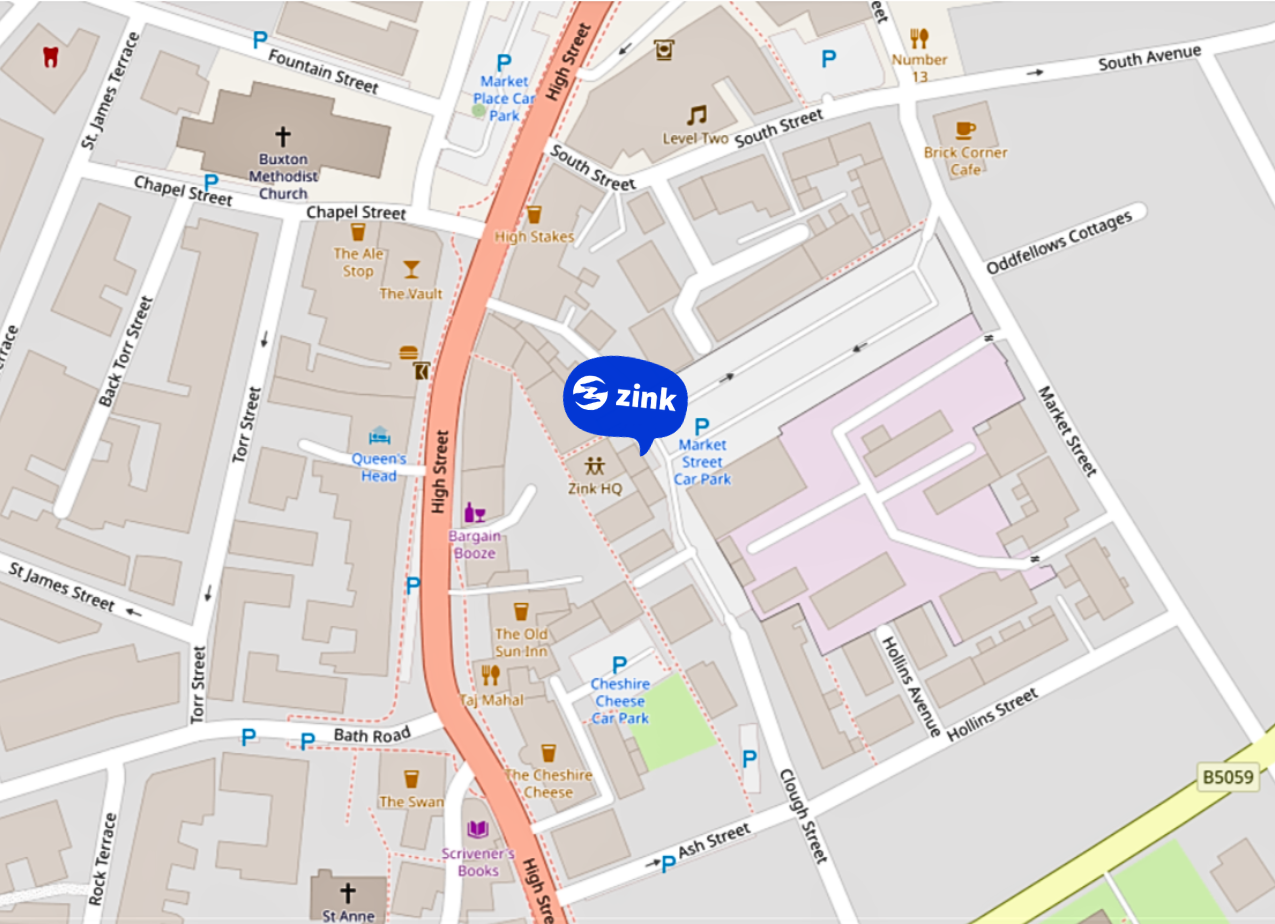 What happens when I attend?
We have a friendly team of support workers and volunteers ready and waiting to welcome you when you arrive at your local service. The team are on hand to listen to what you are experiencing and offer support and interventions accordingly.
We also have a range of distraction activities on offer, such as fidget toys, games, books, and mindful drawing equipment.
There is no pressure for anyone to disclose or talk about anything they don't feel comfortable with.
You are also welcome to attend anonymously if you would prefer to. You will always be supported according to your current needs and always from a person-centred approach.
How will coming to the Crisis Support Drop-In service help me?
Our friendly and welcoming support workers and volunteers will do what they can to help you feel comfortable and put you at ease and may ask some questions to help understand what you are currently experiencing.
Once we understand a bit more about what you are struggling with that day, we can offer a range of support and activities including:
a safe and supportive place to be, as an alternative to attending A&E
non-clinical, non-judgemental and impartial support and a supportive listening ear
help and advice to identify positive coping and wellbeing strategies
a variety of activities designed to distract, ground, and relax
support to create personal safety plans or crisis plan documents
support to try relaxation and breathing techniques to carry on with at home
simple CBT-based exercises to help manage your symptoms at home
information about how to access local services and support groups and activities
signposting to phone numbers/websites to access support organisations and online support communities
What the Crisis Support Drop-In service does not offer:
The Crisis Support Drop-In services do not offer, for example,
any clinical or medical support
food or meals, or immediate support from the food bank
support to anyone who is behaving aggressively
an informal community group for people who aren't experiencing immediate mental health symptoms or emotional distress
support to individuals under the influence of drugs or alcohol and unable to hold a conversation
information about your NHS care or treatment plan – we do not have access to your NHS records
We also cannot support children under the age of 18, however parents and guardians are able to attend (without the child present) with the intention of seeking information about suitable mental health crisis support and services in the local area.
Join the team!
Volunteer for the Crisis Support Drop In Service
We are looking for caring and non-judgemental volunteers to help us deliver the Crisis Support Drop-In service.
Could that be you?
Crisis Support Drop-In Service Partnership Working
Derbyshire Mind is proud to work in partnership with local community organisations and Joined Up Care Derbyshire to deliver these important community services.
The High Peak Crisis Support Service is delivered in partnership with Zink:

"Zink empowers people and families to build a better future no matter what they've been through. When a crisis happens, we can provide emergency food and supplies, advice and support to sort out the cause and a place to plan. Our work coaches offer help into work, education or training and our community provides a range of exciting activities and interests that enable to people to grow, learn and mix.
We are a community organisation that provides services to people and families. What we do depends on each individual but could include emergency food parcels, help into jobs, advice, activities to enable people to mix with others, learn or develop skills etc."
Find out more about Zink here: www.zink.org.uk